Well, my plans for this year just went all over the place.
I was not expecting to crash and burn throughout my spring semester. I have clearly neglected myself for the past few months. But do not worry everything is alright. I finished my spring semester strongly and without destroying my GPA.
With that last few months of school, I really did not have time to knit or do anything for myself except for struggling to submit everything that I need to submit for class. That was pretty much what happened in the past few months.
Now that It is summer I have had time to finish certain projects I have had in the back burner for the longest time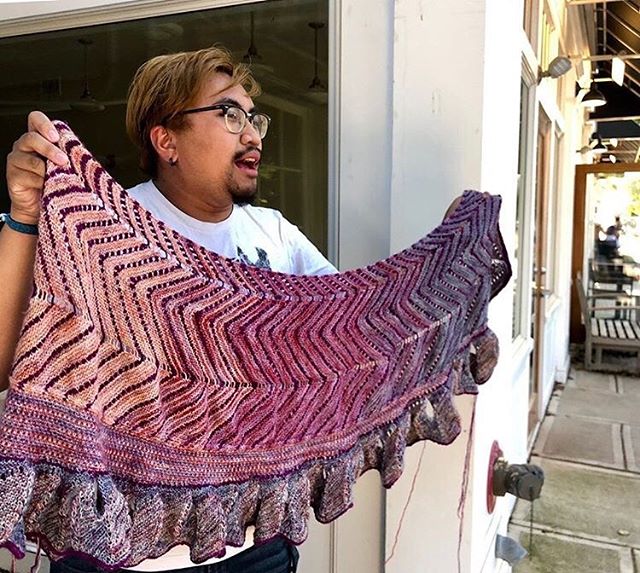 Here is a short review about the Speckle and Pop by Stephen West. This shawl took me forever to finish it, and I might even say that this is one of my favorites from Stephen West designs. The yarns used is by
Pros:
The pattern Is beautiful and The small size is not small at all. Currently it is one of my favorite West Knits that I finished very recently. The techniques that were used were not hard at all. The pattern also gives an Instructions on doing it with the brioche or a garter, which I think is pretty great option if you are the type of knitter who avoids brioche.
Cons:
This is not a long mindless knit. The beauty of a lot of Stephen West patters is a lot of the things you do feel very meditative. This shawl is not like any of those (Dotted rays, Vertices Unite and even Color Craving). This is one of the shawls where it was busy to get to a certain part. It is Just a lot of yarn over turns, and color switching. I would have been fine with it and probably would have enjoy the project If I wasn't busy with school and, other things.
Summary: The shawls looks amazing, and fun. However this project is more of a challenge than a social Knitting project.
Something new.
So I am currently working on something that I am designing. In the future I am going to need some help with test knitting.